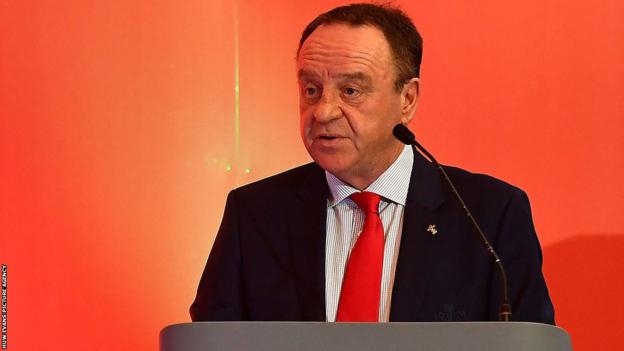 Chief executive Steve Phillips says he believes he is the man to lead the Welsh Rugby Union (WRU) after apologising following accusations of sexism, racism and misogyny.
Phillips, who has faced calls to resign over the claims of discrimination and bullying, has apologised.
He says he has not considered his position following the revelations.
"That's probably a question for somebody else," said Phillips, referring to the WRU board, which is chaired by Ieuan Evans.
When asked whether he believed he was still the man to lead the WRU, Phillips added: "Yes I do, because I believe in setting the right tone, setting the right culture, and I think we'll create inroads, we'll learn from some of the feedback we've had at the moment, we will dress down everything we've done so far.
"We'll look back, reflect and take on board any positive and negative feedback on how could we make the organisation much better and continue to be better in line with the expectations that we have in the public."
In a BBC Wales Investigates programme, two women have complained of a "toxic culture" at the WRU, while another former employee had heard a racist term used in a work meeting.
Former head of Wales women's rugby Charlotte Wathan said she considered suicide and said a male colleague joked in front of others in an office that he wanted to "rape" her. The WRU say the accusation was independently investigated and remains unsubstantiated.
The revelations have been condemned by WRU sponsors Principality and Admiral, Sport Wales, the Welsh government, including First Minister Mark Drakeford, and four Welsh rugby regions and supporters.
The WRU had said it was committed to equality, diversity and inclusion and had investigated claims; Phillips offered an apology on Tuesday for the culture between 2017 and 2019 with him taking over as chief executive in 2020.
"My reflections on the last 24 hours, probably just like everybody else in Wales, just a sense of being appalled with the contents of the programme and the allegations made," said Phillips.
"I have a general sense of being very sorry for how those individuals that worked for the WRU felt and a genuine sense of sorry that we managed to seem to create a culture between 2017 and 2019 where employees were not in a position or comfortable enough to approach the WRU and raise their concerns with us.
"Could we have done things better? Probably and I think we can always be better but I think, I can't turn back the clock, but I would like to look forward and say we will take on board everything that's been said externally.
"We've had some great feedback from staff about the organisation that they want to work in.
"We've already started looking at how we look to improve that and, of course, once we've completed our staff engagement, what the promises are that we will make and how we will show up as the WRU.
"We will then need to engage with the wider stakeholder group, whether that be partners, broadcasters, governments, Sport Wales, and to restore the confidence of the privileged position that we hold in Wales."
Phillips stated said somebody who used a racist term in a zoom meeting was "disciplined and subsequently apologised".
When asked whether he would welcome a Welsh government review, he said: "I have no issues with that. I have heard something along the lines of some sort of overwatch on all governing bodies.
"I've got no idea what that looks like, but as a principle, I've got no issue at all."
The WRU boss did say he does not believe the organisation is currently a sexist, misogynistic and racist body.
"I don't think the picture that was portrayed last night was representative for today's WRU and I certainly don't recognise it as the organisation that I currently lead," added Phillips.
"Are we going to have challenges going forward? Probably, every organisation does but the reality is how you deal with the incident, that is what dictates culture and how you react to it and deal with it professionally and as best as you're able as and when you are made aware of any of the allegations.
"I just want to be clear about this: Anything to do with homophobic, sexual comments, language, behaviour and bullying has no place in the WRU, has no place in Welsh rugby and certainly has no place in any organisation that I lead."
Phillips has also written a letter to the Welsh clubs where he repeated the apology.
"I know you will have been shocked and appalled by the allegations in the BBC programme broadcast on Monday night and I am sorry to see how individuals who have worked for us felt," added Phillips.
"Our culture was not where it needed to be, when we have employees not feeling confident enough to speak up between 2017 and 2019.
"Following this programme we will, again, review the process and procedures we have in place to make sure all staff feel safe and supported in speaking up about anything that makes them feel uncomfortable.
"The WRU knows it has fallen short in presenting Welsh rugby to the world in the best light. We have fallen short of the high standards I expect.
"I strongly condemn the use of racist, homophobic or sexist language of any kind and state in the strongest possible terms that racism, homophobic, sexist or bullying behaviour has no place in Welsh rugby.
"We strive to maintain the very highest standards at all times and present a governing body which makes the whole of Wales proud.
"We have consulted with our staff and we will re-examine our structures and procedures to make sure our employees find a business that is caring and sensitive to their needs and welfare and creating a safe and secure environment for everyone that comes into contact with us.
"We will use the feedback we are currently experiencing to improve, we will listen and learn from what we are hearing and continue to work hard on ensuring Welsh rugby is a game for all with equality, diversity and inclusion at its heart.
"The advancement of the women's and girls' game is a central part of WRU strategy and will continue to be so at both professional and community levels.
"I cannot turn back the clock but I promise you we will start work on making necessary changes immediately.
"I will not lead an organisation which would walk past or excuse any of the behaviour described.
"I will not stand by and watch a culture which falls below the high standards we set.
"We will re-examine how we behave in all quarters of the WRU, we will never be complacent in this area, not on my watch.
"Much of the recent comment has been difficult to hear but I implore anyone, anywhere throughout the game who is affected by any of the issues raised to contact us immediately.
"I care deeply about this subject, the WRU cares deeply and we will act to change wherever we find fault, genuine complaint or grievance. We will do better."
Phillips outlined what they are doing now to rectify problems.
"We appointed Lydia Stirling [the new WRU people director], we looked at our processes, how do we safeguard our staff," he added.
"Lydia made significant progress in that area and having consulted internally and with internal staff, we are going to have a good look at those again.
"Did we do enough when we implemented the changes in late 2021? We've just got to keep looking at them, looking to improve.
"We'll never be complacent in this area and expectations change all the time and we want and will create a safe environment for all employees, particularly females.
"We employed Nigel Walker [WRU performance director] and now he has completely changed a lot of the culture that exists, certainly in the women's game as many experienced in the past."
If you have been affected by any of the issues in this story, the BBC Action Line has links to organisations which can offer support and advice.

Have you been affected by the issues raised in this story? Share your experiences by emailing haveyoursay@bbc.co.uk.
Please include a contact number if you are willing to speak to a BBC journalist. You can also get in touch in the following ways:
If you are reading this page and can't see the form you will need to visit the mobile version of the BBC website to submit your question or comment or you can email us at HaveYourSay@bbc.co.uk. Please include your name, age and location with any submission.