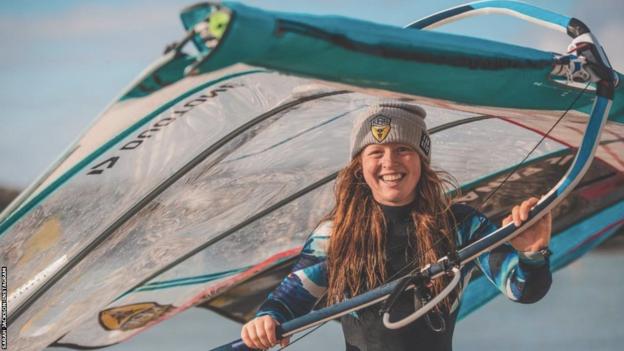 British windsurfer Sarah Jackson says she has relocated from the south coast of England to Tenerife for the winter because she was "surfing in sewage everyday".
In November, Havant Borough Council expressed concern over pollution detected off the north coast of Hayling Island, where Jackson was training.
Jackson, 24, told Adrian Chiles on BBC Radio 5 Live the sewage in the UK was the "worst" she had encountered.
She added: "And that is across Europe."
Campaigners have blamed Southern Water, which is permitted to release untreated sewage during periods of heavy rain to stop drains backing up.
Jackson said: "I was living on Hayling Island in 2020 to 2021, throughout that winter, and that was when I really started to understand the situation.
"So I relocated to Tenerife last winter and then I have come out here again this year, just for the winter.
"You break pretty quickly when you're having to surf in sewage everyday.
"I need wind to be able to be in the water and invariably in winter, when it's windy, it's also raining – and that's when they have free license to just throw sewage into the sea."
Jackson, who is a two-time slalom silver medallist at the world championships, said while Tenerife is "not perfect", the issues surfers face in the UK are more severe.
"The south coast is super tidal," she said. "So even if there is sewage coming out in X location, because the tides are so strong across the south coast, it's moving that water super quick and spreading it out very quickly.
"While that slightly dilutes it because it is being spread, that just means the problem is being spread further and further.
"What I've learnt more recently is that almost everywhere we go, there is a problem in some level – but the level in the UK is definitely the worst we are seeing – and that is across Europe."
Jackson said she was inspired to become an advocate for ocean conservation at 14 years old when she first started out in the sport.
"I went to a lake in Oxford and it was so polluted, off the back of that I got really sick for 12 weeks," she said. "I ended up in hospital and it was a complete nightmare."
In a statement to BBC Radio 5 Live, Southern Water said that while they have an "important role to play" in maintaining water quality, it was also key that "all parties work together" to create a clean and safe coastline.
While Jackson agrees, she also believes there should be consequences for the amount of sewage the water company is disposing of.
She added: "What I would love to see is greater punishments – especially this summer – as it was dry and dry and yet there was still raw sewage being pumped.
"They are taking such big bonuses at the end of each year, such big profits; put that back in, reinvest it and actually improve the infrastructure.
"It's the one that we can control and that would make the biggest difference."