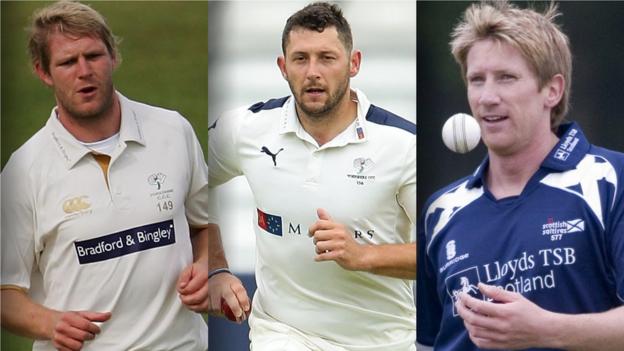 Matthew Hoggard, Tim Bresnan and John Blain have withdrawn from the disciplinary process relating to allegations of historical racism at Yorkshire.
The three were among seven individuals, along with Yorkshire, charged by the England and Wales Cricket Board (ECB) over allegations made by Azeem Rafiq.
They join former Yorkshire captain and head coach Andrew Gale in withdrawing.
BBC Sport understands that Hoggard, Bresnan and Blain do not believe they will get a fair hearing.
The ECB's Cricket Disciplinary Commission (CDC) will hear the charges in March.
The hearings are due to take place in public, a first for the CDC, following a request from Rafiq. The proceedings were delayed until this year after "a number of the respondents" appealed against the decision to hold them in public, but those appeals were all dismissed.
Gale opted out of the process in June and following the withdrawal of Hoggard, Bresnan and Blain only Yorkshire, former England captain Michael Vaughan, ex-England batter Gary Ballance and Richard Pyrah remain cooperative with the process.
Swing bowler Hoggard, 46, played 67 Tests for England and was part of the team that won the Ashes in 2005.
All-rounder Bresnan, 37, twice won the Ashes and lifted the 2010 T20 World Cup with England.
Pace bowler Blain, 44, won 39 caps for Scotland and played county cricket for Yorkshire and Northants before becoming Yorkshire's second team coach.
Background and timeline
Former Yorkshire spinner Rafiq first made claims of historical racism at Headingley in an interview with the Cricket Badger podcast in August 2020.
The county commissioned law firm Squire Patton Boggs to investigate and, more than a year after Rafiq's initial allegations, a summarised version of a report was published in September 2021. Seven of Rafiq's 43 claims were upheld and Yorkshire apologised for "racial harassment and bullying".
However, the panel's report was not published and no player, employee or executive faced disciplinary action as a result of its findings. The outcome sparked widespread criticism and in November 2021, Yorkshire was temporarily stripped of the right to host international matches at Headingley by the ECB.
Former chairman Roger Hutton and chief executive Mark Arthur resigned in November 2021, the same month in which Rafiq appeared in front of a Digital, Culture, Media and Sport (DCMS) select committee to give evidence which included branding English cricket "institutionally racist".
In December 2021, Hutton's replacement as Yorkshire chairman, Lord Kamlesh Patel, sacked 16 members of the club's coaching and backroom staff, including head coach Gale and bowling coach Pyrah. Both would eventually agree compensation over a claim for unfair dismissal.
Patel's reforms at Yorkshire saw the club reinstated as international venue in time for summer 2022.
Shortly before Headingley hosted England's Test against New Zealand in June 2022, the ECB announced it had charged the county and seven individuals.
Gale, who denies the allegations made by Rafiq, withdrew from the disciplinary process two weeks later, calling it "tainted".
In August 2022, Ballance, who has admitted to using racist language towards Rafiq, issued an apology, which Rafiq accepted. Ballance has since been released from his Yorkshire contract and returned to play for his native Zimbabwe.
Rafiq and Gale were reprimanded by the ECB in October 2022 for historical social media posts of a racist nature. Both admitted to making the posts, which were not related and for which Rafiq apologised.
In November 2022, the CDC took the unprecedented step of opting to hold its hearing in public and scheduled it to take place at the end of that month.
An appeal against that decision from the respondents delayed the hearing and was ultimately struck down.
Now, a month before the proceedings are due to begin, Hoggard, Bresnan and Blain have withdrawn.
More to follow.