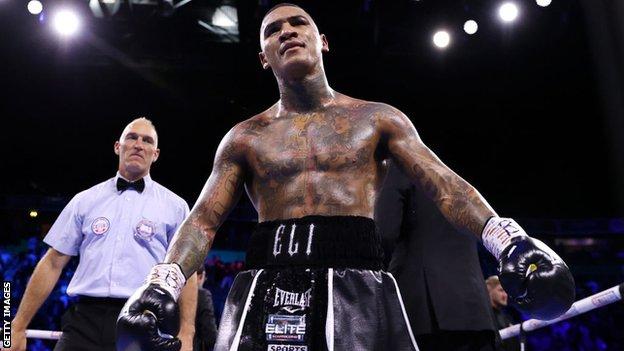 Conor Benn is back in the World Boxing Council rankings after it ruled his failed drugs test was not intentional and could have been caused by a 'highly-elevated consumption' of eggs.
Benn failed two voluntary drug tests for the female fertility drug clomifene before his cancelled October bout with Chris Eubank Jr.
He is still under investigation by UK Anti-Doping and the British Boxing Board of Control, and is unable to fight in the United Kingdom as he does not have a boxing licence.
Benn and Eubank were scheduled to meet on 8 October at a catchweight of 157lb – 30 years after their fathers Nigel Benn and Chris Eubank Sr fought.
The 26-year-old has previously blamed "contamination" for the findings. His defence outlined there was a fault with the VADA testing laboratory, but that was rejected by the WBC.
In a full statement, the sanctioning body said it found "there was no conclusive evidence that Mr. Benn engaged in intentional or knowing ingestion of clomifene".
It added: "There were no failures in the procedures related to sample collection, sample analysis, or violations of Mr. Benn's B Sample rights that would justify questioning or invalidating the Adverse Finding, and Mr. Benn's documented and highly-elevated consumption of eggs during the times relevant to the sample collection, raised a reasonable explanation for the Adverse Finding."
The statement refers to a test which took place on 25 July after Benn enrolled in the WBC's out-of-competition testing in July.
He tested positive for clomifene and its hydroxymetabolites MI and M2. The WBC says it did not receive "substantive response" from Benn until December and the WBC did not make a full analysis until January 2023.
The BBBofC said it was aware of the WBC's findings but added: "Whilst the BBBofC wishes to make clear that it respects the WBC, the WBC is a sanctioning body and not a governing body.
"The decision of the WBC does not affect the ongoing implementation of the BBBofC's rules."
The WBC intends to work with Benn and his team in the future to "avoid the risk of a future adverse finding caused by nutritional factors".
Promoter Eddie Hearn said Benn was "ready to resume his career".
"This is now about finding places for Conor Benn to box," Hearn told the Boxing Social podcast.
"Conor Benn can box anywhere in the world, but to box in the UK he has to go through a process, and we don't know how long that process is going to take.
"He's in the gym. He's been in the gym for the last six weeks. He's ready to fight."