Tommy Fury will face Jake Paul in arguably the most-hyped contest featuring two novices in boxing history this weekend.
"This fight is just going to show that Jake Paul is not a professional boxer and you can't mix YouTube boxing with professional boxing," Fury, the younger brother of WBC heavyweight champion Tyson, says.
Over the past six years, boxing has taken a somewhat unexpected, and divisive, twist which started with a fight between YouTubers Joe Weller and Theo Baker in a Brighton gym in 2017.
Following its success, a number of video content creators, reality television stars and social media influencers turned their hand to the art of pugilism; creating a new wave of fight fans and generating a whole heap of money.
Boxing aficionados feel it makes a mockery of the sport; an insult to more talented fighters who have spent years grafting and honing their craft, and still struggle to make ends meet.
BBC Sport speaks to Fury, promoters Frank Warren and Eddie Hearn and former two-time world champion Carl Frampton to discuss what Fury has to gain – and lose – from taking on Paul, and whether Sunday's fight in Riyadh can be considered a 'real' boxing match-up or just the latest instalment in the story of celebrity boxing.
'I look at it as an entertainment format'
Supporters of the YouTube boxing phenomenon say it brings new, younger, fresher eyes to the sport. It can only be a good thing to grow boxing's appeal, they argue.
"YouTube boxing is an interesting one," Hearn says. "I did Logan Paul against KSI, I saw the numbers first-hand.
"But I struggle with it because I'm probably a more old-fashioned, hardcore boxing fan and it wasn't for me.
"It doesn't mean it doesn't create interest. It's entertainment. But I don't even look at YouTube boxing as boxing, I just look at it as an entertainment format."
Fury, 23, fought a handful of amateur bouts, but most of his fame comes from his stint on dating show Love Island. As a professional he has won all eight fights, albeit his opponents have a combined record of 24 wins, 176 losses and five draws.
Paul, 26, has won all six of his professional bouts, but his opponents include a fellow YouTuber, a former NBA basketballer and ex-MMA fighters.
So is Fury-Paul entertainment or 'proper' boxing?
"Jake Paul against Tommy Fury, I actually remove that from the YouTube boxing world," Hearn answers.
"They're two guys who are undefeated. They're not going to go on and challenge for world titles but they are better than some professional boxers.
"They take part in genuine training camps, they put the hard spars in. Just because they've got big profiles doesn't mean they don't have the right to be professional boxers."
'Boxing can learn from YouTubers'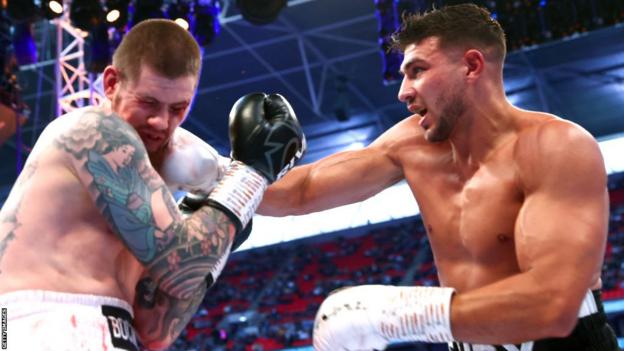 To promote their upcoming fight, Paul and Fury clashed in the ring before the world-title light-heavyweight bout between Anthony Yarde and Artur Beterbiev last month.
Beterbiev, one of the best in the world, waited patiently in his dressing room as a topless Fury went head-to-head with Paul.
It was quite the visual representation of how boxing has evolved in recent times, and posed the question of whether it is acceptable for a pound-for-pound star to wait for his title defence while two novices hype up their bout?
Warren defends the decision, describing it as a perfect opportunity to promote Paul-Fury to a global audience, while Frampton calls it "a bit cringe".
Hearn was not a fan either, but does believe fighters can learn a great deal from the rise of entertainment boxing, particularly on how to build a profile and engage with fans.
In an age where social media fanbase often dictates your level of celebrity, Paul has 63.9 million followers and subscribers combined across YouTube, Twitter, Instagram and TikTok.
"These YouTubers are tremendous self-promoters," Hearn says.
"They spend their entire time building their own individual platform and engaging and interacting with fans and customers on a daily basis.
"Whether it's boxing or YouTube, people like characters, people like personalities, people like confrontation.
"We can learn that fighters need to build their profile, they need to build their platform, they need to interact, via their promotional company and by spending time on it themselves. "
'Fury has everything to lose'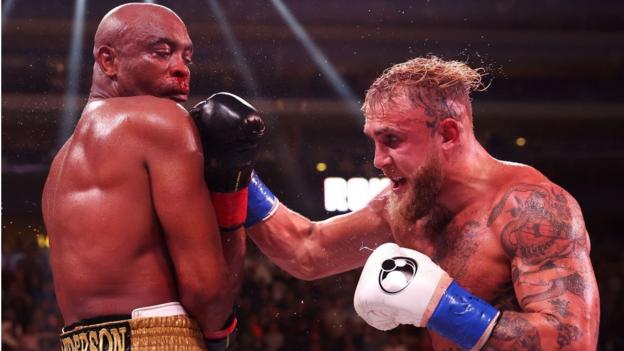 The fight is the latest lucrative sporting event to take place in Saudi Arabia.
The Kingdom has spent billions to bring elite sport to its country but critics, such as human rights organisation Amnesty International, have accused Saudi Arabia for trying to 'sportswash' away the country's "abysmal" human rights record.
According to Sports Zion, Paul's overall prize money is expected to reach $8.6m (£7.1m) while Fury will reportedly earn $4.5m (£3.7m) for the fight, including 35% of the pay-per-view sales.
But despite the career-high payday, Fury insists he is not motivated by money.
"I don't receive anything from taking this fight and I'm fully aware of that," he adds. "All I receive is clarity that Jake Paul isn't a professional boxer and I've been saying that all along. I don't get any titles or kudos for this."
There is more at stake for Fury than boxing credibility. He has been warned by brother Tyson and dad John he will be "disowned" from the family if he is defeated by Paul.
"He has everything to lose as far as being a boxer is concerned, as far as having the name Fury is concerned," Warren says.
"He's standing [for] the world of boxing. But he has a huge amount of money to gain. It will set him up for life.
"It's like risk or reward. The reward is there before he steps in the ring. But the risk now is does he want to be seen as Tyson's brother or as Tommy Fury, potential world champion?"
WBC ranking for winner a step too far?
In a move which irked many in boxing, including Frampton, the WBC governing body announced the winner will receive a cruiserweight ranking with the organisation.
With the pulling power of Paul in particular, that could lead to a future opportunity to challenge for a world title.
Paul has boldly called out boxing superstars and world champions such as Saul 'Canelo' Alvarez in the past.
"That's where it kind of it steps over the line a little bit for me, when you have Jake Paul calling out Canelo," Frampton says.
"Any novice fighter calling out Canelo, you just kind of laugh at them and think 'you're an idiot'.
"If he keeps doing what he's doing and continuing on this trajectory and continuing to get better, there may be bigger fights or fights for titles of some sorts.
"But are Jake or Tommy going to beat some of the top fighters in the world? Absolutely not."
Following a backlash, the WBC clarified it would be a top 40 ranking, not top 15.
"The issue is still there with the WBC ruling," Frampton adds.
"There will be legitimate fighters who will be 15-0, good fighters, who will never be anywhere near the WBC rankings in this time in their career.
"And these two novice fighters could get a crack at a world title because they're in the rankings? That seems bizarre and unfair to me.
"But it doesn't surprise me. Boxing is a circus at times."