Wales head coach Warren Gatland has outlined the importance of avoiding the Six Nations Wooden Spoon after three consecutive tournament defeats.
Gatland's side face Italy in Rome on 11 March before taking on France in Paris seven days later.
Wales are aiming to avoid what would be a first whitewash in the Six Nations since 2003.
Italy have also lost their first three matches, meaning victory in Wales' next game is vital to ensure they do not finish bottom of the table for the first time in 20 years.
"Last thing you want to do is get the Wooden Spoon," said Gatland.
"That's got to be our focus [after the England loss]. Part of this Six Nations is about us thinking about the next six or seven months.
"We've got older players still holding their hands up and some younger players who need some time.
"We've not got that group in the middle who have 30 or 40 caps. We've got to marry the two together and start thinking about that going forward."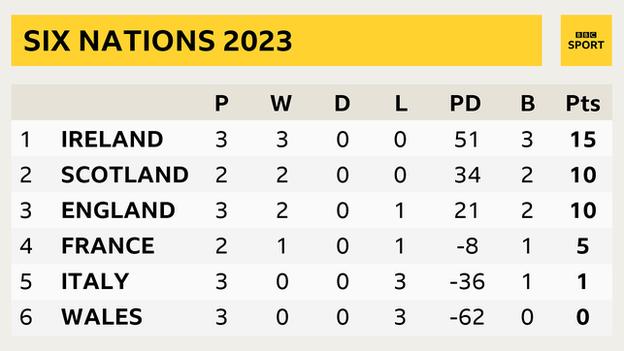 Wales experienced a troubled build-up to the England encounter, with the national squad threatening to strike because of a row over player contracts before the issue was resolved just three days before the match.
"We weren't making any excuses for what happened in the week," added Gatland.
"Getting up for an England Wales game is not difficult. The week was challenging, we realise and understand that, but we were not making any excuses."
Gatland made nine changes against England but is looking at some continuity in Rome.
"We have looked at a few players," added Gatland.
"It is all very well saying that, but you need also a little bit of continuity as well in selection.
"We wanted to find out a bit about players within the squad and we kind of feel we have done that in games and training.
"We are now thinking about cohesion as much as anything going forward, particularly for the Italy game which becomes pretty important."
Wales' kicking game against England was poor, while they have managed only three tries in this year's Six Nations under the guidance of new attack coach Alex King.
"We can be critical of ourselves in terms of us creating a lot of problems for ourselves in not being accurate in key critical moments," said Gatland.
"That's kind of been our Achilles heel at the moment. [I am] talking about being accurate and clinical in the opposition 22. And we are exposing the ball and allowing the opposition to get on it.
"That's what Test match rugby is about, staying in that arm wrestle, and to stay in that fight is about being accurate.
"We have spoken about being hard on ourselves in areas we need to improve on.
"I was pleased with some aspects – I thought there were a number of improvements in that performance – but there is still a lot of work for us to do."
Wales will drop to 10th in the world rankings after the England defeat, and this start to the Six Nations tournament is their worst since 2007.
They have lost 12 of their past 15 matches, a run stretching back to the reign of Wayne Pivac, who Gatland replaced in December 2022.
It is Gatland's second stint in charge after his initial 12-year period between 2007 and 2019 saw Wales win three Grand Slams, four Six Nations titles and reach two World Cup semi-finals.
So is the rebuilding required bigger than Gatland anticipated when he took the job?
"There's definitely some things we need to work hard on," he added.
"It's probably when a team is going well and playing with confidence and winning, it's the big moments you nail.
"We're not miles away, but it's frustrating and it's hurting us. It's not the opposition hurting us, we're hurting ourselves.
"We've got to keep working with the intensity we're trying to create in training so that our decision-making under pressure improves going forward."
Gatland insists he will get the best out of the Wales squad at the World Cup in France later this year.
"I know the best thing about a World Cup is the amount of time you have together," he added.
"When we get to the World Cup, the hard work we'll have put in and the improvement we'll get in terms of strength, power and fitness will have a big impact on the performance of this side moving forward."