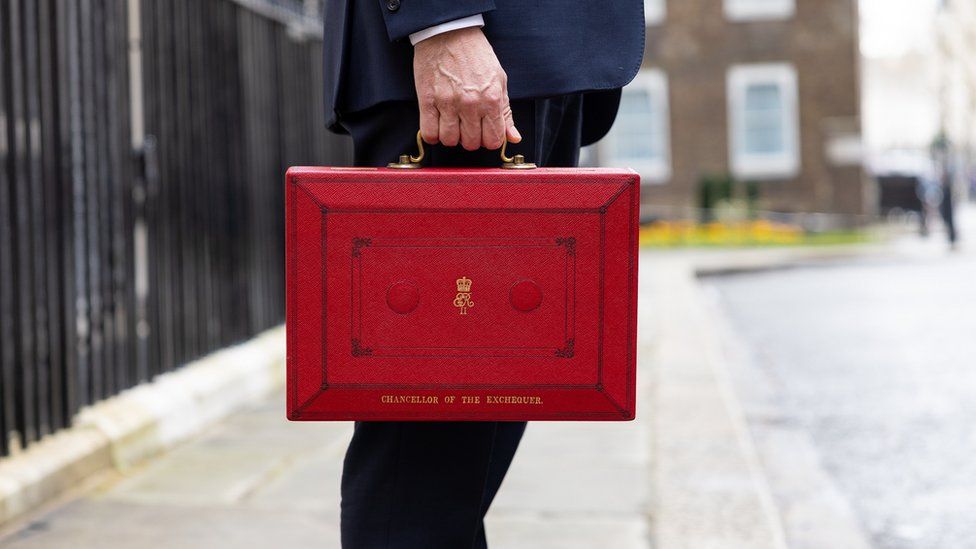 The chancellor has said his Budget will mean an additional £130m for public spending in Northern Ireland over the next two years.
But Treasury tables show the amount for Stormont departments will fall from £13.8bn this financial year to £13.5bn next year and £13.7bn in 2024-45.
Stormont's Finance Department is expected to produce its own figures later.
The £130m is a result of the Barnett formula.
The formula is used to determine annual changes in the block grant to Northern Ireland, Scotland and Wales.
Typically it would fall to politicians in the power-sharing government at Stormont to decide how any extra cash from the Budget is spent.
But with the Stormont executive not functioning due to a boycott by the Democratic Unionist Party (DUP), that responsibility could fall to Northern Ireland Secretary and civil servants.
What will Northern Ireland get from the Budget?
In addition to the £130m as a result of the Barnett formula, the Budget contains an extra £3m to extend the Tackling Paramilitarism programme in Northern Ireland and £40m for third-level education.
The chancellor said the education money was for "widening participation in further and higher education" but it is not yet clear what that will involve.
But some of the chancellor's key announcements will not automatically apply in Northern Ireland.
What will happen with energy bills?
Changes to the Energy Price Guarantee (EPG) could see some people in Northern Ireland paying more for gas and electricity.
The EPG protects customers from increases in energy costs by limiting the amount suppliers can charge for each unit of energy used.
In Great Britain the EPG has been extended for three months at its current level keeping a typical household bill at the equivalent of £2,500 a year.
However in Northern Ireland the EPG will become less generous from the end of March.
That is because the scheme was originally introduced later in Northern Ireland than in Great Britain so Northern Ireland customers got an additional backdated discount.
That extra support will be withdrawn at the end of March.
This means a typical Northern Ireland household using electricity and mains gas will see their energy bill increase from the equivalent of £1,952 a year to £2,109.
However what people actually pay will depend on their supplier and how quickly they are able to pass through falling wholesale costs.
Is Northern Ireland getting free childcare?
The chancellor announced a big expansion of free childcare in England.
But Northern Ireland has a separate childcare system, which Stormont ministers were planning to reform before devolution collapsed.
So it is not clear if or when similar measures as those planned for England will apply in Northern Ireland.
But there is likely to be some benefit to Stormont's public finances as a result of the childcare announcement in England.
Mr Hunt also announced changes to the benefits system, aimed particularly at getting more disabled people into work.
In Northern Ireland, responsibility for policies on employment support and social security sits with the devolved Stormont executive.
In practice Northern Ireland usually follows Great Britain policies in that area but at the time of the last major welfare reforms Stormont introduced some mitigating measures.
What is the Barnett formula?
Since the late 1970s the Barnett formula has been used to determine annual changes in the block grant to each nation of the UK.
When there is a change in funding for devolved services in England, for example health or education, the Barnett formula aims to give each country the same pounds-per-person change in funding.
For example, if health spending increases by £100 per person in England the devolved governments should receive the equivalent amount.
The exact amount is based on the size of their population.
However, the devolved governments are free to spend any extra money on whatever they want – it doesn't have to go on health just because the money went on health in England.
The UK government also provides other grants to devolved administrations outside of the block grant, which are not covered by Barnett.
How will any extra money be spent?
Stormont ministers would usually be the ones to decide how any additional funding for Northern Ireland would be spent.
However there has been no devolved executive at Stormont since February last year due to the DUP's boycott in protest against post-Brexit trade rules for Northern Ireland.
If power-sharing remains stalled it will fall to Northern Ireland Secretary Chris Heaton-Harris to set a budget for the next financial year.
Allocations to Stormont departments within that budget will then be the responsibility of senior civil servants, who may be reluctant to take spending decisions usually reserved for Northern Ireland politicians.
The UK government has also suggested Northern Ireland would not get a new Investment Zone unless devolution is restored.
The zones will give lower tax rates for businesses and relaxed planning regulations for new developments.
The Treasury said: "The final design choices and agreement on an Investment Zone in Northern Ireland will be subject to the restoration of the Northern Ireland Executive."
What will pension changes mean for Northern Ireland?
One of the chancellor's announcements was an extension of the tax-free allowance in pension sums from £40,000 to £60,000.
Pension rules introduced in 2016 meant that medical consultants were penalised if they breached their pension savings allowance, with some retiring early to avoid that.
Dr Tom Black of the British Medical Association, which represents doctors, has said he hoped the change would mean some doctors in Northern Ireland would reconsider their early retirement.
"The changes announced today will reduce unfair extra tax bills many doctors," he said.
But he added that there was "still a need to fix an over-complicated taxation system."